Lisbon is an eclectic patchwork of cultures and history. From a trendy riverside to a maze of medieval streets, there's a bairro (neighborhood) to suit every traveler. But which neighborhood is right for you? In this guide, we'll help you figure that out. Here's where to stay in Lisbon.
---
Where To Stay in Lisbon: Best Hotels and Neighborhoods
Don't skip a trip to Portugal! Especially Lisbon since it just might surprise you. It's an ancient city that has been shaped by many cultural influences. From the narrow winding streets of Alfama to the wide thoroughfare of Avenida de Liberdade, the long history of the city is reflected in the bairros of Lisbon.
For history lovers, the old neighborhood of Alfama with its Moorish São Jorge Castle and haunting Fado music is the perfect choice. The narrow, often-steep streets are great for a stroll back in time but keep in mind the closest transport is by bus and tram, which is actually a pretty cool experience.
If you're looking for a vibrant atmosphere with shopping, restaurants, nightlife, and more, you'll want to check out the riverside Cais do Sodré, Chiado, or Bairro Alto. These areas are well connected by metro and there's plenty to see and do, which makes it our favorite area.
Hoping to hit the beach and soak up some Portuguese sun or try surfing? Cascais will get you a quieter beach retreat just a quick train ride away from the city and there's no lack of restaurants or interesting things to do.
So, how do you choose the perfect area in Lisbon? Keep reading for our tips about the best places to stay in Lisbon with recommendations for neighborhoods and hotels in this guide. Here are the areas we'll cover:
Our Partnership with Booking.com. If you like our content, please book by clicking on our Booking.com links. The price is the same for you and we get a small commission that helps support our helpful blog content. We've partnered with Booking.com because they have the most options, great prices, and a solid loyalty program.
Alfama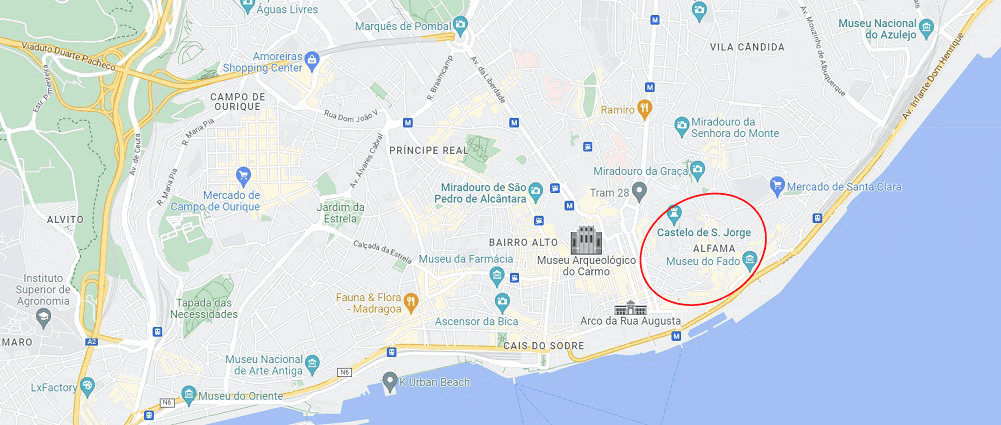 This is the historical heart of Lisbon. You'll have the most authentic stay here if you're looking to experience old Lisbon, though you'll find more expensive hotel options here.
Characterized by steep narrow streets, the imposing São Jorge Castle, and the sound of Fado music coming from restaurants that have been around for ages, Alfama is a journey through time you might want to experience by tram. If you love history, culture, and traditions—and don't mind some steep inclines—you'll want to stay here.
Why I love Alfama:
Authentic Lisbon vibes
Oldest areas in Lisbon
Lots of history
Fantastic views of the city
Attractions near Alfama:
São Jorge Castle
Lisbon Cathedral (Sé de Lisboa)
Fado Museum
Arco da Rua Augusta
Praça do Comércio
Best hotels in Alfama:
Solar do Castelo – Lisbon Heritage Collection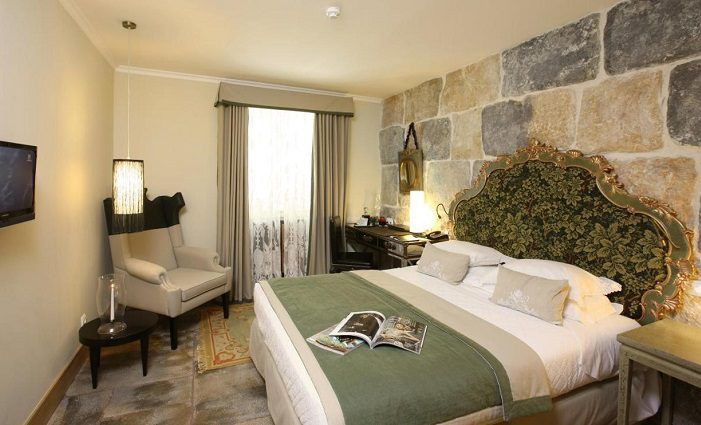 €€€ | 4 Star | Iconic Hilltop Location | Oasis
Want to stay within the walls of the Moorish Sao Jorge Castle? You can at Solar do Castelo! Set in an 18th-century mansion, the hotel is a quiet oasis with great views. It's furnished with beautiful decor and will have you feeling like you've stepped back in time without sacrificing any comfort.
Áurea Museum by Eurostars Hotel Company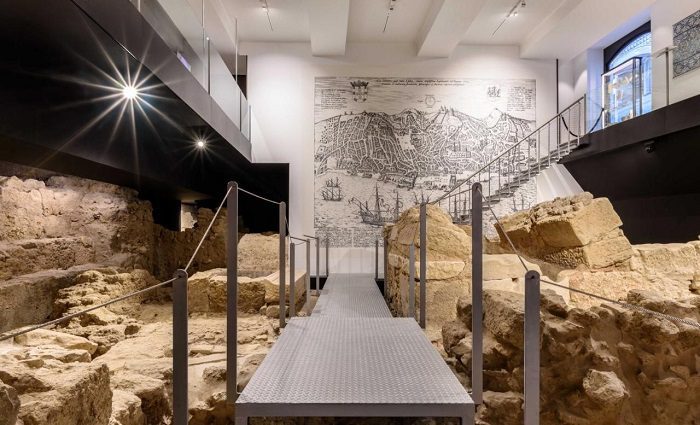 €€€ | 5 Star | Riverside Location | Indoor Pool | For History Lovers
Yes, this is a hotel, but it also has a permanent archaeological exhibition since it's set in a historic building close to Lisbon Cathedral. But don't let that fool you. This hotel has a beautiful modern design with all the amenities for a relaxing and luxurious stay.
Santiago de Alfama – Boutique Hotel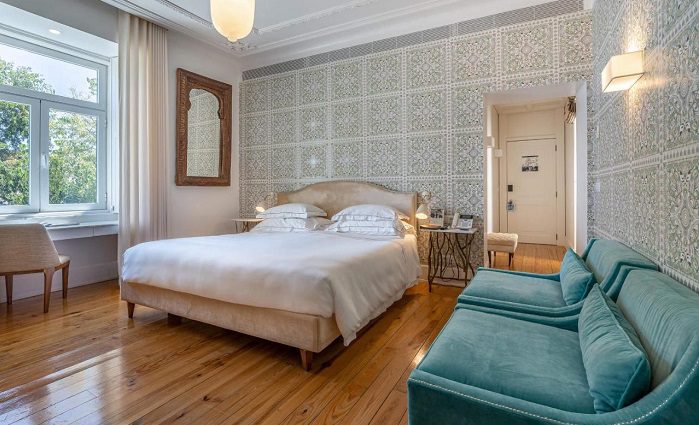 €€€+ | 5 Star | Great Location | Views | Restaurant | Spa
In the heart of Alfama, this hotel is perfect for those who love to step outside a hotel and immediately explore a neighborhood. The rooms have an airy elegance, and there's no question you'll enjoy great food in the restaurant and have a relaxing stay here. The views are pretty good too!
The Lisboans Apartments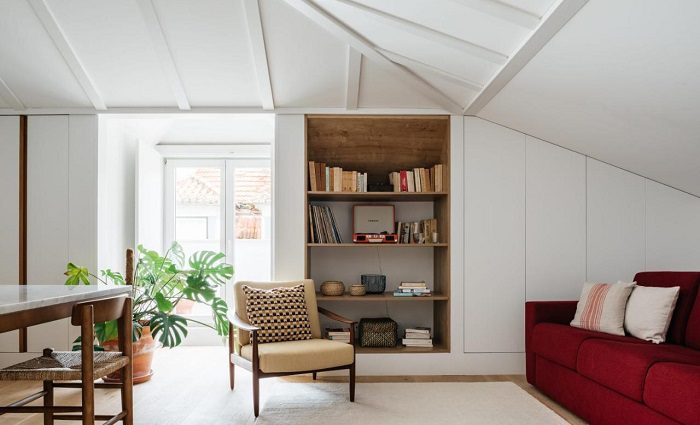 €€€ | 4 Star | Apartments | Kitchen | Great For Families
On the border of Alfama and Baixa, these apartments offer guests an elegant self-catering option close to transportation, the cathedral, and the Praça do Comércio. It's perfect for anyone looking for a home away from home in Lisbon with exceptional design and the option of two bedrooms.
Bairro Alto and Chiado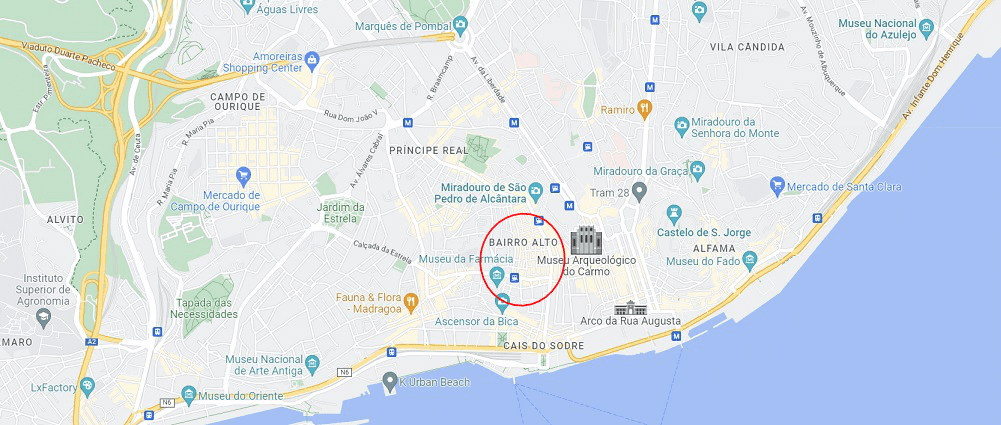 If you want to be in the center of it all, Bairro Alto and Chiado are both great options for hotels in Lisbon. These two areas border one another, and it's where you'll find the most people exploring the best attractions in the city. We recommend staying here if you're traveling with kids, prefer luxury hotels, or like to be closest to attractions.
With a trendy vibe and vibrant nightlife, there are plenty of bars, restaurants, theatres, and more. Even if you don't stay here, you're guaranteed to be spending time here when you come to Lisbon.
Why I love Bairro Alto and Chiado:
Trendy and happening part of town
Buzzing nightlife
Great shopping
Attractions near Bairro Alto and Chiado:
Museu do Chiado (National Museum of Contemporary Art)
Rua Garrett and Armazéns do Chiado for shopping
Carmo Convent (Museu Arqueológico do Carmo)
Praça do Rossio
Church of São Roque
Praça Luís de Camões
Rua da Bica de Duarte Belo with the iconic yellow funicular
Best hotels in Bairro Alto and Chiado:
Bairro Alto Hotel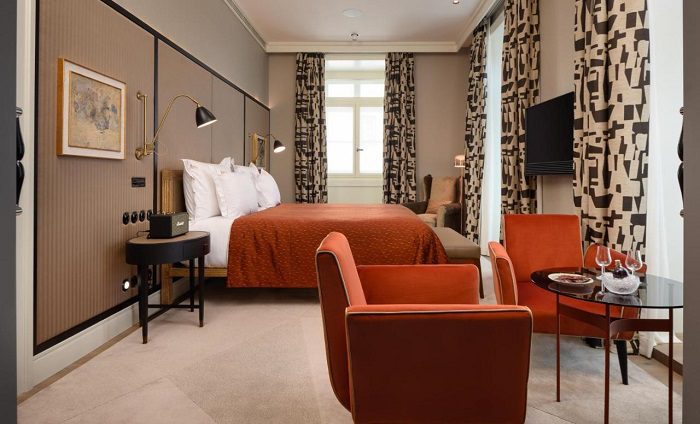 €€€€ | 5 Star | Modern Luxury | Restaurant | Rooftop Terrace
For a luxury stay in Lisbon's trendy Bairro Alto, this is the place. It overlooks the picturesque Luís de Camões square, and you'll be close to everything from restaurants to transport. You can even dine in at their chic restaurant and enjoy fantastic views while you have breakfast on the rooftop terrace.
Hotel do Chiado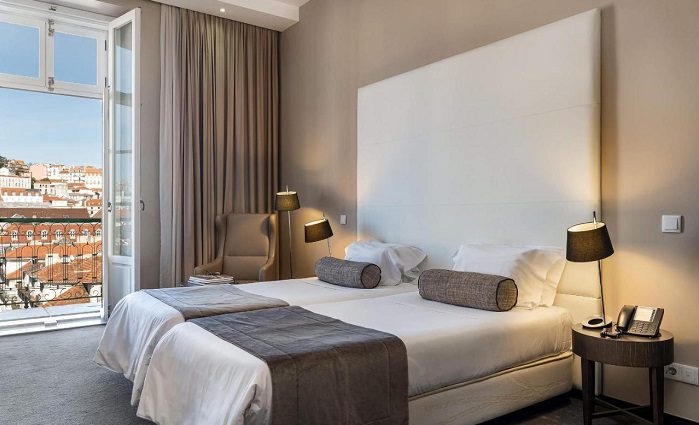 €€ | 4 Star | Bustling Location | Great Views | Rooftop Bar
If shopping in Chiado is at the top of your to-do list, this hotel is in the thick of things. Rooms are spacious, bright, and have great views of Lisbon's typical orange rooftops. You'll also enjoy discounts at their popular Entretanto Rooftop Bar.
The Lumiares Hotel & Spa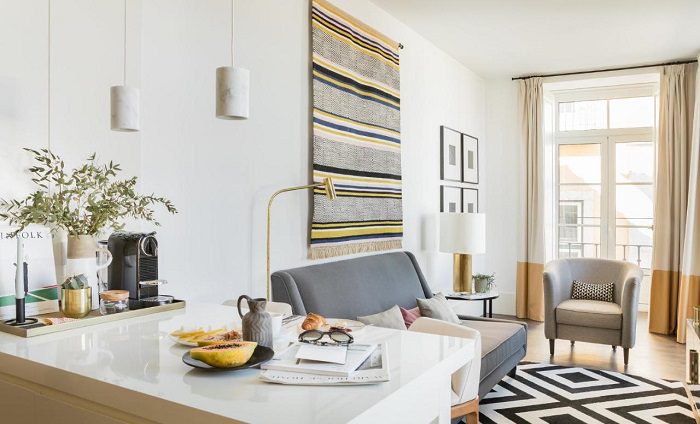 €€€+ | 5 Star | Elegant Suites | Spa | Family Friendly
This is perfect for families visiting Lisbon who want an upscale home away from home with a kitchen and one or more two-bedroom suites—without forgoing the amenities of a hotel. The hotel has a spa, a rooftop terrace with fantastic views, and a great location in the heart of the city.
Palácio das Especiarias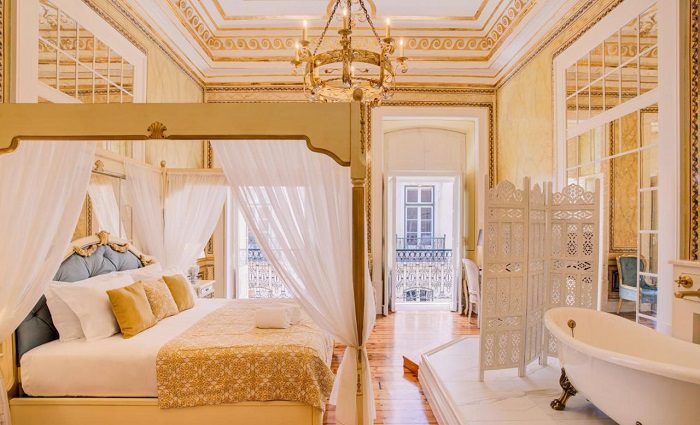 €€€+ | 4 Star | Palatial | Spa | Garden | Terrace | Bar
You can expect grand rooms and suites with gorgeous furnishings and decor that blend old-world elegance with modern comfort in this former palace. When you're done exploring you can enjoy the sun in the garden or relax in the spa. Luxury travelers love choosing to stay at this Lisbon hotel.
Lisboa Carmo Hotel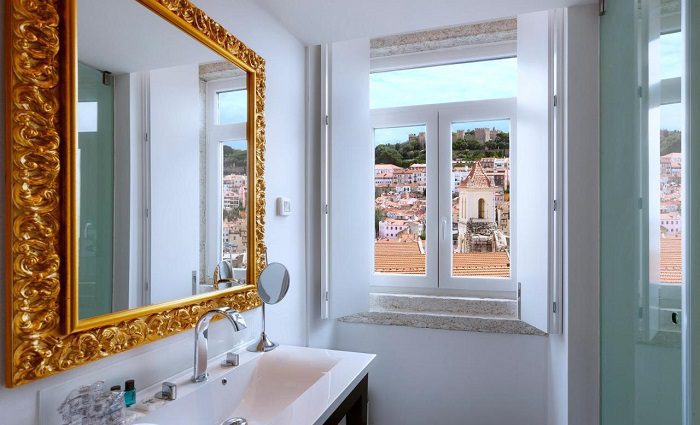 €€ | 4 Star | Great Location | Restaurant | Affordable
With an elegant and contemporary vibe, this hotel is a great base to explore the city at a cheaper price. It's close to Largo do Carmo, a beautiful little square full of cafés and restaurants, and lots of other sights. Some of the rooms have views of São Jorge Castle or the river.
Cais do Sodré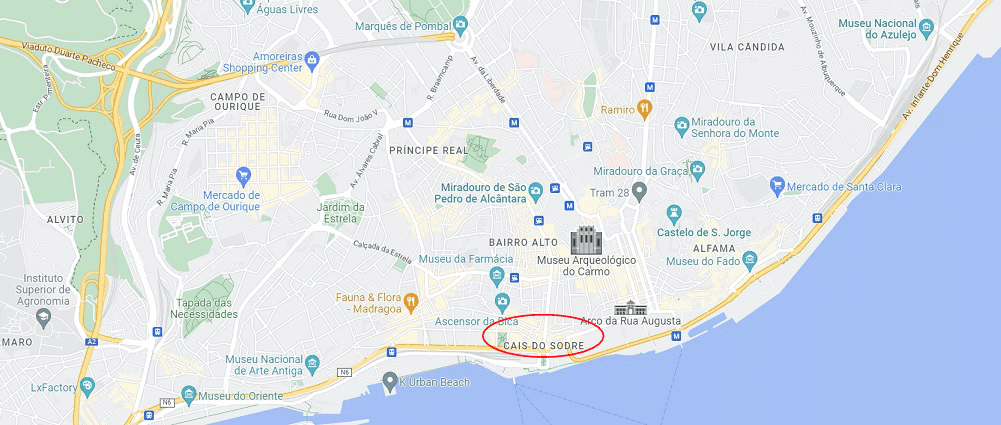 This riverside neighborhood is super trendy. You'll find a buzzing nightlife and an eclectic food scene filled with nightlife seekers, foodies, solo travelers, and young couples. You've probably already seen pictures of its famous Pink Street on Instagram.
This is the place to stay if you want to reawaken yourself with like-minded travelers! Not only can you easily explore the city from here, but you'll also be able to catch the train to Belém, Cascais beach, and Sintra.
Why I love Cais do Sodré:
Buzzing nightlife
Foodie heaven
Riverside location
Train to top attractions beyond the city center
Attractions near Cais do Sodré:
Mercado da Ribeira (aka Time Out Market Lisboa)
The Pink Street (Rua Nova do Carvalho)
Av. Ribeira das Naus (riverside promenade)
LX Factory
Museu Nacional de Arte Antiga
Best hotels in Cais do Sodré:
Lx Boutique Hotel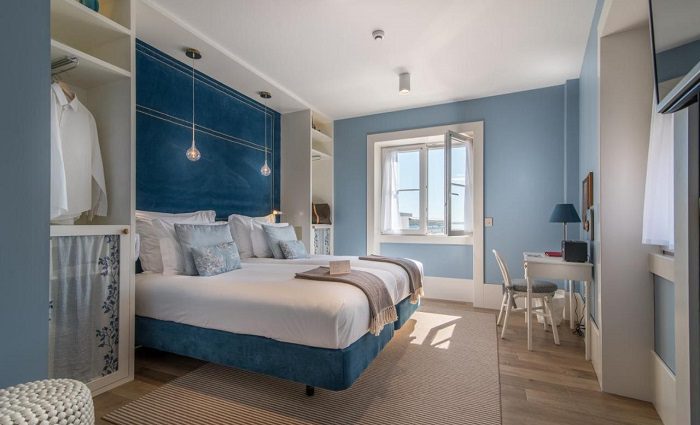 €€ | 4 Star | Great Location | Restaurant | For Foodies
Foodies, this one's for you! Located just off the famous Pink Street, you'll be spoilt for choice when it comes to restaurants and bars. The area has a vibrant atmosphere and the Mercado de Ribeira (Time Out food market) is a 4-minute walk away. Walk off those calories on the nearby promenade.
Corpo Santo Lisbon Historical Hotel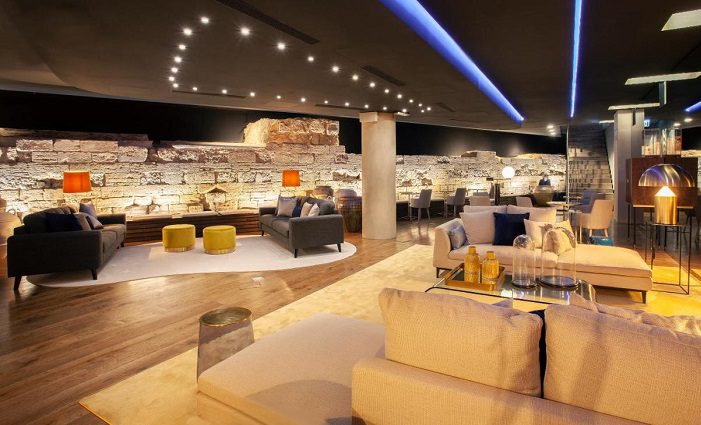 €€€€ | 5 Star | Modern with History | Spa | Free Walking Tours
This boutique hotel is a restful retreat in a lively area. You'll be able to relax in the spa and you'll have guests-only access to the Fernandina Room, a lounge area with exposed wall ruins! The hotel also runs two free walking tours of Lisbon daily starting in their own museum area.
Ascensor da Bica – Lisbon Serviced Apartments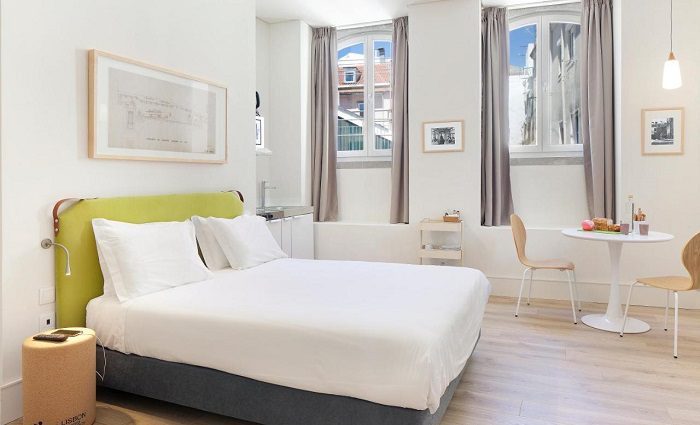 €€ | 4 Star | Apartments | Great Location | Family Friendly
For a laid-back stay in an apartment with simple designs and kitchenettes, this is a great choice. It's central and close to the iconic yellow Bica cable car. Perfect for families or anyone wanting a bit more independence and privacy, this is a cozy home in Lisbon.
Princípe Real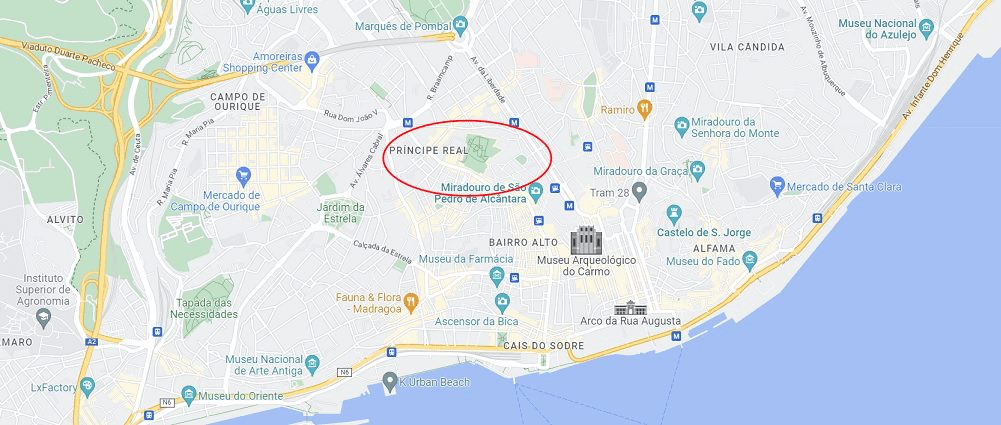 If you're looking for a quieter area to retreat to after exploring the city, popular and affluent Princípe Real is a great choice. It's close to Bairro Alto and Baixa, so you'll be near the action without being right in the thick of it. You'll be well connected to the rest of the city with the metro but just out of the tourist zone.
There are plenty of luxury hotels here, but you'll also find affordable accommodations in this Lisbon neighborhood. We recommend this area for older travelers who don't mind public transport, solitary travelers, and honeymooners.
Why I love Princípe Real:
Quieter area close to main attractions
Nightlife with a different vibe
Luxury and affordable hotels
Attractions in Princípe Real:
Botanical Garden of Lisbon
National Museum of Science and Natural History
Principe Real Garden
Avenida da Liberdade
EmbaiXada Shopping Center
Best hotels in Princípe Real:
Memmo Príncipe Real – Design Hotels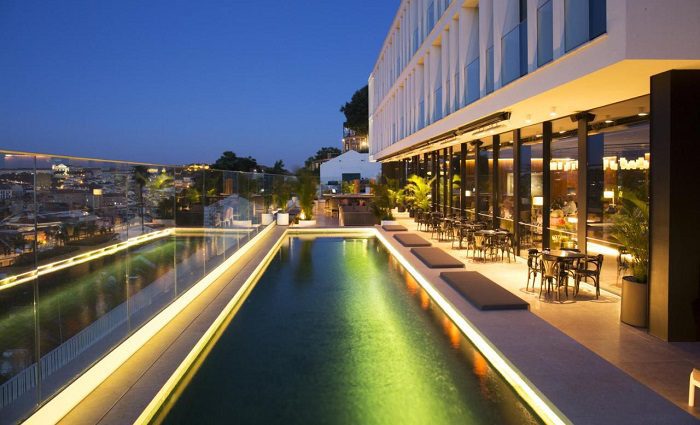 €€€€ | 5 Star | Upscale Design | Rooftop Pool | Spectacular Views
This chic hotel is designed for comfort and style, which makes it a top choice for luxury honeymooners. It has a rooftop pool and restaurant with gorgeous views. Rooms come in a variety of configurations with perks like a balcony with an outdoor fireplace in exclusive rooms or a private living room in the junior suite.
1869 Príncipe Real House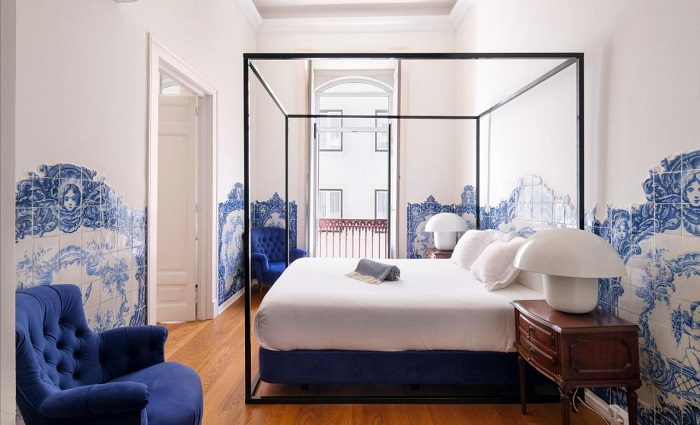 €€ | 4 Star | B&B | Beautiful Design | Family Friendly
Set in a restored building that dates back to 1869, this B&B offers guests incredible comfort in beautifully designed rooms and suites. This is a great choice for families looking for some space as the suites have a living area.
Alegria A Lisbon Boutique Hotel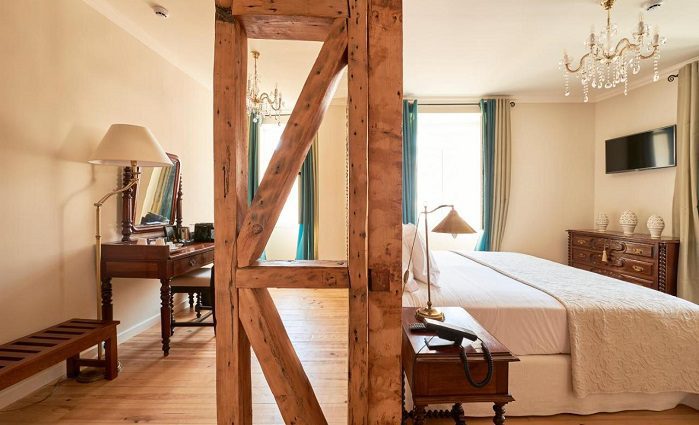 €€ | 3 Star | Great Location | Excellent Breakfast
Overlooking the Praça de Alegria garden, this hotel features spacious rooms with interesting architectural details and an eclectic design. It's perfect for travelers looking for a restful place to stay on their trip to Lisbon.
The One Palácio da Anunciada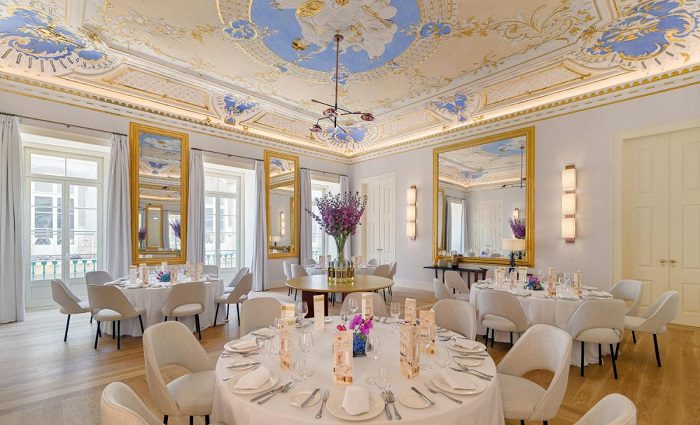 €€€€ | 5 Star | Luxury | Two Pools | Garden | Restaurant | Spa
If you're looking for luxury near Av. de Liberdade, this is it. It's set in a gorgeous building with elegant old world details. With both an indoor and outdoor pool, a restaurant, wine bar, spa, and garden, you'll have plenty of opportunities to relax here.
Cascais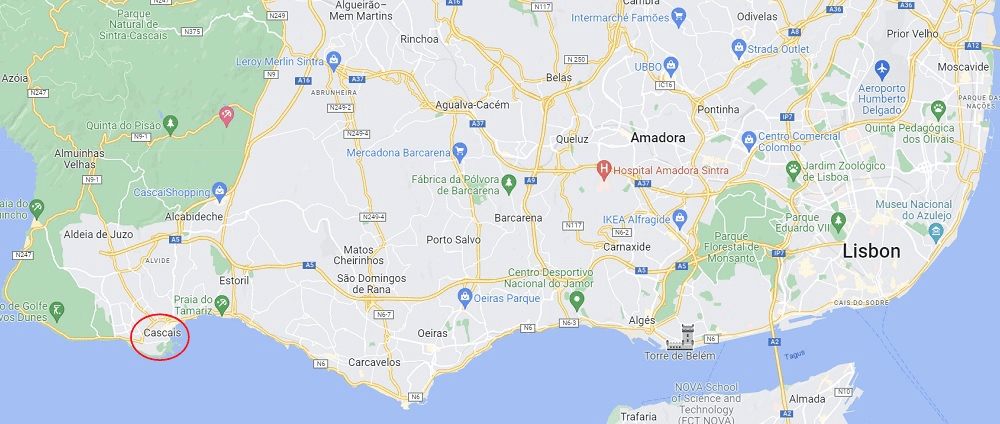 Cascais is a beach town just a 40-minute train ride from the center of Lisbon (Cais do Sodré). If you want to spend some time at the beach and explore Lisbon, staying in Cascais could be a great option for you.
It's out of the hustle and bustle of the city but it has absolutely everything you need from great restaurants to art museums, surf schools, nearby golf courses, and stunning beaches.
Why I love Cascais:
Out of the city's hustle and bustle
Plenty of beaches
Surf schools
Golf courses
Attractions in Cascais:
Praia da Ribeira de Cascais
Piscina Oceânica Alberto Romano
Cascais Marina
Fortress Nossa Senhora da Luz de Cascais
Museu Condes de Castro Guimarães
Santa Maria House Museum
Casa das Histórias Paula Rego
Oitavos Dunes Golf Course
Best hotels in Cascais:
Pestana Cidadela Cascais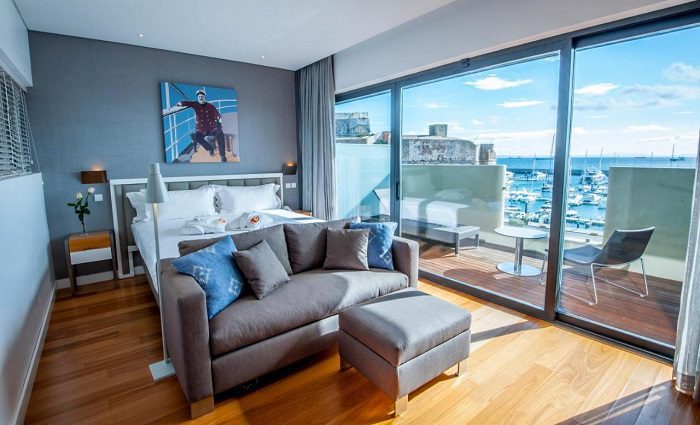 €€€€ | 5 Star | Trendy | Two Pools | Spa | For History and Art Lovers
Set in a fortress next to the Cascais Marina and surrounded by art studios and galleries, this is an experience you won't forget. Some rooms feature balconies, sea views, and, every now and then, an artistic makeover by an invited artist. How cool is that!
On the Beach
€€€ | Apartment | On the Beach | Close To Train Station | For Families
If you're traveling in a larger group, this three-bedroom apartment on the beach is a great option. It's fully furnished with a comfortable living and dining area and kitchen. Two of the bedrooms come with twin beds you can either keep separate or push together depending on your needs.
The Albatroz Hotel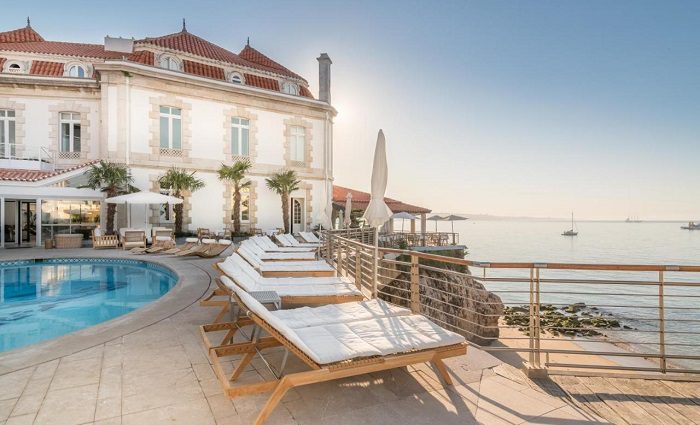 €€€ | 5 Star | Beachfront | Panoramic Restaurant | Pool | For Beach Lovers
If you're coming for the beach, you can't beat this hotel's location and value. The decor might be a bit eclectic for your tastes, but the outdoor pool and beautiful views will make up for that.